In July 2003, the United States Department of Agriculture proclaimed that July is National Blueberry Month. Since it's the peak of blueberry season, this month is the perfect time to head to the store and pick up some of these delicious, nutrient-packed berries.
Health Benefits of Blueberries
Blueberries are low in calories and high in nutrients. A 1-cup serving of blueberries contains 4 grams of fiber, Vitamin C, Vitamin K, and Manganese. Blueberries are also high in antioxidants. In fact, they are believed to have one of the highest antioxidant levels of all fruits and vegetables. Antioxidants protect your body from free radicals, unstable molecules that cause damage to your cells which can increase aging and cancer risk. The main antioxidants found in blueberries are anthocyanins. Evidence shows that blueberries directly increase antioxidant levels in the body.  
Blueberries also have a high water content, and an entire cup contains only 84 calories, with 15 grams of carbohydrates. They make a great addition to oatmeal at breakfast or Greek yogurt for a snack. Try adding them to your diet to meet your daily recommended 2 servings of fruit per day. 
Here's a recipe for healthier blueberry muffins to celebrate this month!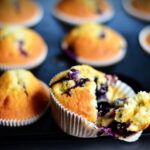 Ingredients:
1 cup milk (can substitute soy, almond, or other plant-based milk)
1 cup rolled oats 
1 ¼ cup all-purpose flour
1 tsp baking powder
½ tsp baking soda
½ tsp ground cinnamon
½ tsp salt
½ cup unsweetened applesauce
¼ cup stevia powder 
1 large egg (room temperature)
1 tsp vanilla extract
1 cup fresh blueberries
Directions:
Combine oats and milk. Set aside for 20 minutes. 

Preheat the oven to 425 F degrees. Spray muffin tins with non-stick spray or use muffin liners. 

Whisk the flour, baking powder, baking soda, cinnamon, and salt together in a large bowl until combined. Set aside. Whisk the applesauce, stevia, egg, and vanilla extract together in a medium bowl until combined. Pour the wet ingredients into the dry ingredients, stir a few times, then add the soaked oats (milk included, do not drain) and blueberries. Fold everything together gently just until combined.

Spoon the batter into liners, filling them all the way to the top. Top with oats and a light sprinkle of sugar, if desired. Bake for 5 minutes at 425 then, keeping the muffins in the oven, reduce the oven temperature to 350°F. Bake for an additional 16-17 minutes or until a toothpick inserted in the center comes out clean. The total time these muffins take in the oven is about 22-23 minutes, give or take. Allow the muffins to cool for 5 minutes in the muffin pan, then transfer to a wire rack to continue cooling.