Registered Dietitians in
Phoenix, Arizona: Nutrition and Wellness from A to Z
"Wellness is an active process through which people become aware of, and make choices toward, a more successful existence."
— National Wellness Institute
We offer in-person and virtual appointments.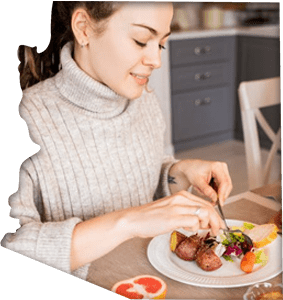 Health is an important component to living a longer and happier life. Whether you want to learn to incorporate nutritious foods, understand how certain foods react in your body, or want to eat more plant based, adopt a vegetarian or vegan lifestyle, we can teach you how.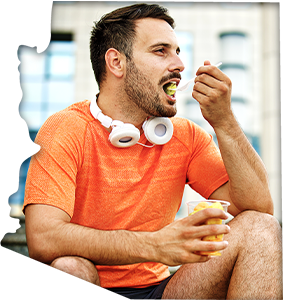 Gastrointestinal problems such as IBS, Colitis, Crohn's disease, GERD, bloating, constipation and diarrhea can make the task of daily life difficult. These issues cause malnutrition, daily discomfort, embarrassment and make it difficult to leave the house. Nutrition is a key component to managing these issues.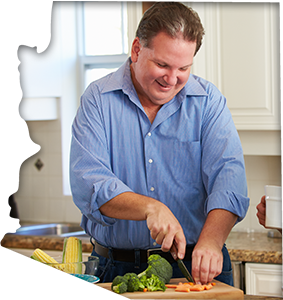 Diabetes is a disease that affects the production or efficiency of insulin in the body. Unmanaged diabetes creates damage to blood vessels and leads to complications such as blindness, amputations, strokes and heart attacks.  By managing your diabetes with diet, exercise and sometimes medication, the damage on the vessels is minimized.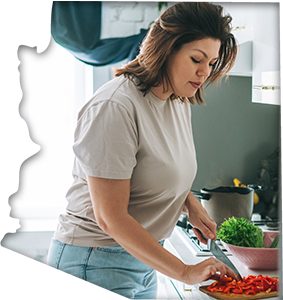 Chronic kidney disease (CKD) causes damage to the health of your kidneys, usually over time. When your kidneys are not in good health, it is time to change what you eat and drink so your body will work well and you will feel better.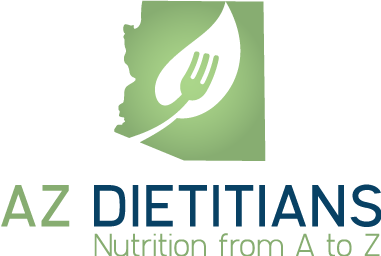 AZ Dietitians:
Nutrition from A to Z
Your nutrition experts, proudly serving clients from all over the Phoenix, AZ area including Mesa, Gilbert, Chandler, Queen Creek, Scottsdale, Tempe, Apache Junction, and San Tan Valley
At AZ Dietitians, we believe that there should be balance in all things. The way we eat should not be different. Food is an important part of our culture and learning to navigate healthy eating can be difficult. We at AZ Dietitians can help you learn how to find balance between the two by utilizing evidenced based research to recommend a treatment just right for you. Because there is not a one size fits all approach, we take into account your lifestyle, labs, food preferences, health risk factors, and other factors. We know change is hard and we can give you the tools and support you need to be successful.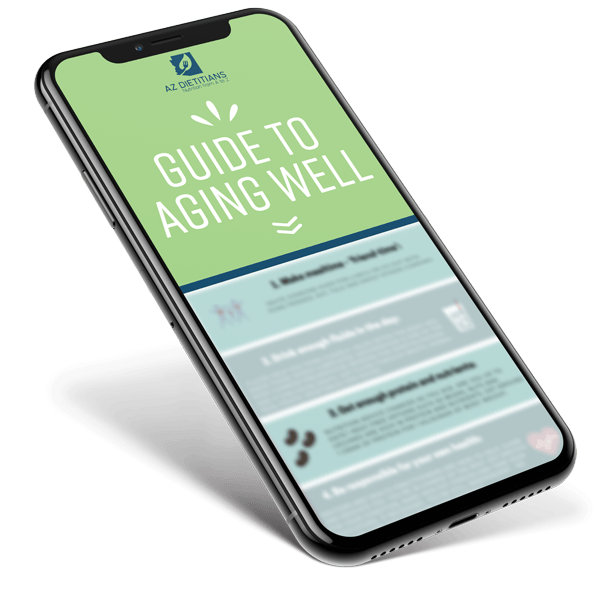 Sign Up to Receive Your FREE Guide To Aging Well!
What We Do: Nutrition Services in the Phoenix Area 
Individualized Nutrition Approach
Because nutrition is not a one size fits all, we tailor your nutrition to your lifestyle and health concerns to help you be the best you that you can be.
Chronic Disease Management
We help you manage your chronic diseases by tailoring your food to improve labs and decrease your risk for complications associated with your chronic disease.
In-Person and Telehealth
Whether you feel more comfortable meeting in person or over video or by phone from your home, we can help you with your nutrition needs.  
Facilities Menu Planning
Our expert menu planning dietitian can help plan your menus for your facility. In addition, if you qualify, she can help you secure federal funding for those meals that qualify.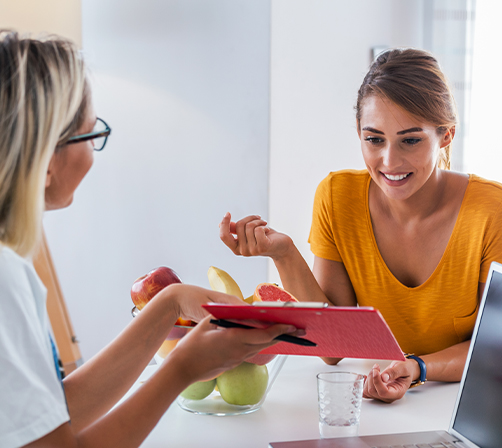 Online Nutrition Coaching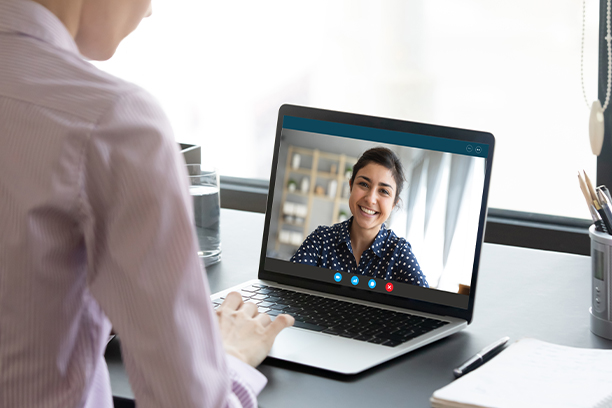 Ready to invest in yourself and never have to diet again?
Our dietitians gear our program towards acheiving SUSTAINABLE fat loss — transforming not only your body, but also your mentality around food.
Fill out the application today, and we will reach out to you to set up a call to better understand your goals and needs.
The AZ Dietitians Nutrition BLOG
All too often, the frozen aisle gets a bad rap. "There's no nutritional value," "Fresh food is better than frozen," or "They're loaded with preservatives" are some of the common misconceptions surrounding the frozen food aisle. While yes, there are some poor food...
read more
All too often, the frozen aisle gets a bad rap. "There's no nutritional value," "Fresh food is better than frozen," or "They're loaded with preservatives" are some of the common misconceptions surrounding the frozen food aisle. While yes, there are some poor food...
read more
Many people wonder whether taking a supplement is a good idea or not. If this is you, you may also have wondered which supplement is right for you. With so many products and claims out there, it can be difficult to know whether what you're taking is actually...
read more
Chances are you've heard of apple cider vinegar whether you're already cooking with it or putting it in seasonal drinks. You may or may not have also heard that apple cider vinegar can help with overall health too, but is this just another fad? Let's break down the...
read more
Are you doing all of the "right things" to lose weight but not seeing the success you'd expect? There are a lot of factors at play when it comes to weight loss. These factors include getting the right amount of: -Calories-Fiber-Protein-Fat-Carbs-Water-Exercise...
read more
Interested in making an appointment?
from wellness achievers throughout the Mesa, Chandler, & Phoenix, AZ area

"I've been working with Wendy for about 9 months.  In that relatively short period of time I've gone from 14  to 10% body fat, I'm sleeping better, and I feel great. I'm much more educated in regards to the dietary choices I make, which is critical to long term weight management success.
Wendy has a very common sense approach which works well for me.  Between her guidance, an app on my phone and solid counseling I was able to change my habits and meet my goals.  Wendy is knowledgeable, approachable, and encouraging.  She doesn't shy away from honest feedback which I really like.  I need to know where I'm making mistakes so I can stop making them.
I also really like the fact that the long term goal is for the individual to change their eating habits and then become self-sufficient.  If, as a patient, you do your part you won't need counseling and diet tracking apps for life.  If you do your part you can manifest real change in 6-12 months.
I highly recommend Wendy and AZ Dietitians.  I had a great experience with her and I'm sure you will as well.  Thanks Wendy!"

"I started working with Wendy when I was having a few health issues and wanting to lose the extra weight I had been carrying around. Best decision I made for myself. With weekly check-ins and helping me with what foods were best for me, I started to feel like myself again and lost weight in the process. I felt comfortable and knew that my concerns were taken into account and that Wendy truly cared about me. She listens and makes you feel like you are her top priority. I would recommend her to anyone in a heart beat. She changed my life and how I think about my health now."

"Wendy is one of the most compassionate and friendly people that I have ever met. I met with her after being diagnosed with diabetes. She took all of my concerns and questions in stride, and provided me so much information in my first visit that I took with me and really took to heart. She was so genuinely excited for me when my weight started to drop and I was also genuinely excited to see that someone was so concerned for my well being overall, not just one aspect of it. I would highly recommend Wendy, as not only is she knowledgeable and will provide you correct information on how to manage your diagnosis, but it's also nice almost having a "coach" on your side cheering on your success. Thank you so much Wendy!"
We know change is hard, and we can give you the tools and support you need to be successful in your journey to wellness.
Contact us and get started on your path to wellness today!
Want to request an appointment? Click here!