A complaint we hear from new nutrition clients is this: "homemade food doesn't keep me full." They'll also often say, "I'm always hungry soon after breakfast/lunch/dinner." Are you dissatisfied with your homemade (or even restaurant) meals? While building a satisfying meal is pretty simple, it's something that takes practice to master. That's what we're teaching you today!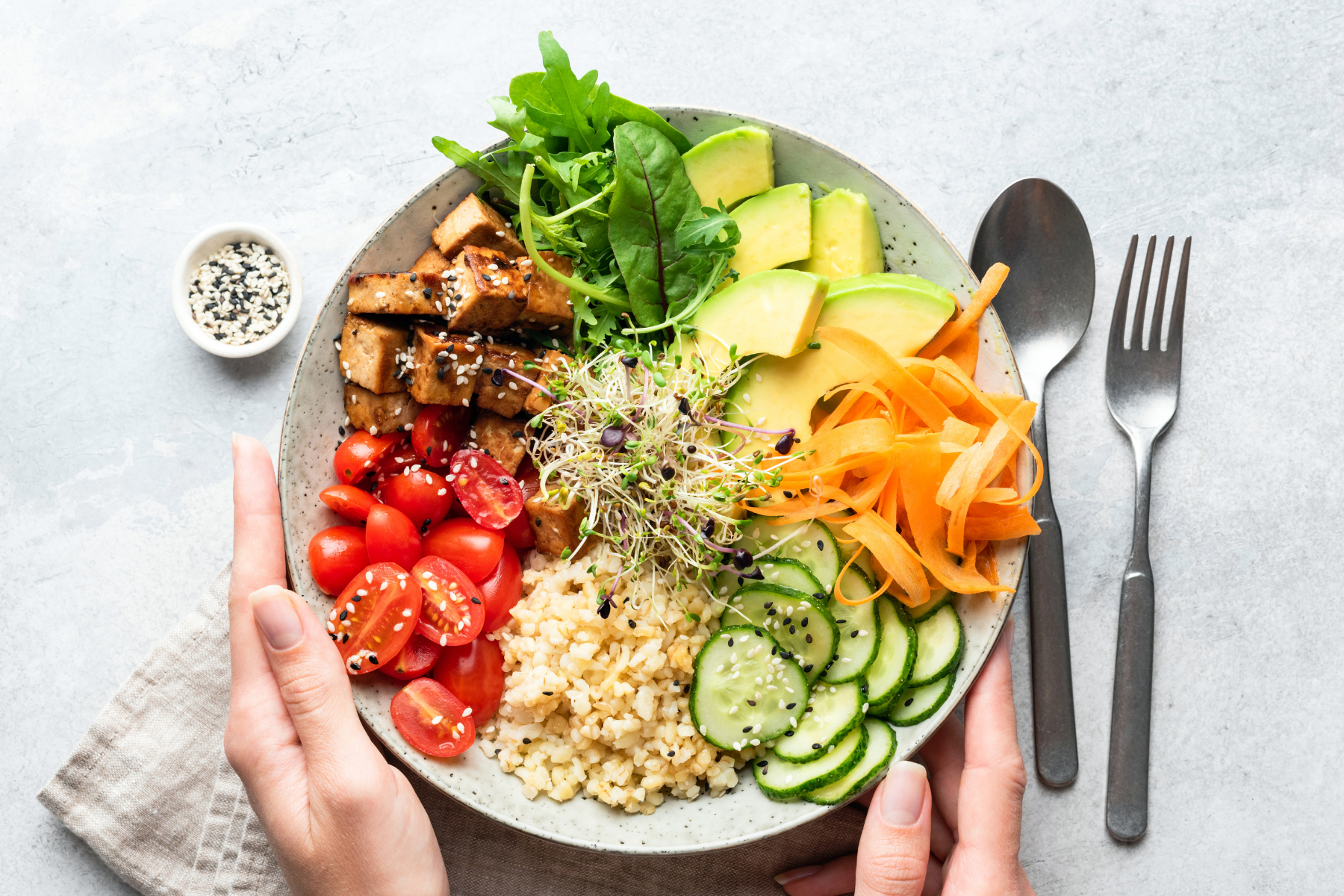 What is a Satisfying/Filling Meal?
A filling meal keeps you full for 4 hours or more. It helps you stop thinking about food for at least 3 of those hours. It can even be filling without going over your calorie needs! When many of our clients are asked which meal is most satisfying, they say "Chipotle."
This makes sense; Chipotle is doing a lot of things right when it comes to making satisfying meals. Their meals all include a lean protein source, a fiber-rich source (beans), fats (guacamole, cheese, sour cream), and whole grains (tortilla & brown rice). Let's explore how we can build something like this at home with less sodium and fewer overall calories. Sound like a dream? We know.
How to Build a Satisfying Meal
A filling meal consists of 4 main components:
1. Lean Protein (chicken, fish, sirloin steak, pork loin, tofu, tempeh, edamame, etc.)
2. Whole Grains (whole wheat tortilla/bread, quinoa, brown rice, oats, etc.)
3. Fiber (beans, vegetables, berries, other fruit, etc. Fiber can also be found in the whole grain and healthy fat sources)
4. Healthy Fats (avocado, olives, olive/avocado oil, omega 3's in fish, etc.)
A balanced, filling meal could look like any of these:
Avocado Pesto Chicken wrap with 4 oz grilled chicken, a whole wheat tortilla, 1-2 cups spinach/romaine lettuce, 1/2 avocado, sprouts, pesto & a side of steamed broccoli. Here's how it fits the 4 components:
Protein = chicken
Whole grain = tortilla
Fiber = avocado, tortilla, sprouts, & broccoli
Healthy fats = avocado & pesto
Berry Delicious Oatmeal. (Oatmeal is one of those meals that tends to leave us hungry soon after, and that's because it usually doesn't have enough protein or fat with it!) Here's how we dietitians make oatmeal: 1/2 cup rolled oats (not quick oats), 1 cup water (heat these together first for 2 minutes, then add toppings), 1 tbsp peanut/almond butter, 1-2 tsp pure maple syrup, 1 cup frozen berries, 2 scoops collagen powder & 1 tbsp chia/flaxseed (optional). Here's how it fits the 4 components:
Protein = collagen powder & almond/peanut butter
Whole grain = oats
Fiber = berries & chia/flaxseed
Healthy fats = almond/peanut butter & chia/flaxseed
Homemade Burrito Bowl (That's right, you can make Chipotle at home!) made with 1/2-1 cup sauteed tofu (mix with chipotle peppers & taco seasoning for flavor), 1/2 cup sauteed bell peppers & onions, 1/4 cup beans, 1/2 brown rice, 1/2 avocado, & 1/2 cup salsa. Here's how it fits the 4 components:
Protein = tofu & beans
Whole grain = brown rice
Fiber = tofu, beans, rice, avocado & peppers (this is a high fiber meal! Maybe why you feel so full after eating Chipotle.)
Healthy fats = avocado & olive oil used for sauteing
How Not to Balance a Meal
Okay, as dietitians, we see many people stating that they eat healthily but live on unbalanced meals. They wonder why they're hungry all the time or why they constantly have cravings. Balancing meals will help with both of those things! It can also help improve sleep, mood, migraines, and more! Here are some things not to do when it comes to making meals:
Don't just eat an instant oatmeal packet for a meal and call it good. This is mostly just sugar and will send your blood sugar spiking and then crashing later. This will just bring on the cravings in about an hour, even though you might feel like you're making a "healthy" choice. See our tip on how to balance oatmeal above.
Do not just eat a meal of non-fat Greek yogurt and berries. Greek yogurt is a great source of protein and berries are high in fiber and antioxidants. Neither of these are bad things, but if you don't pair fat and more carbs with this, you're going to be hungry real soon! Try mixing some peanut butter or chia seeds into your yogurt, pairing it with berries, and having a piece of Killer Dave's toast on the side for more balance.
Do not eat like a bird during the day and binge at night. If you don't balance your meals throughout the day – including breakfast – you will be much hungrier at night. When this hunger hits, it ends up being very easy to eat more than you would have eaten throughout the entire day had you balanced your meals.
Do not be afraid of eating 500 calories at mealtimes. Many say they only want a small breakfast because they know they'll be hungrier later on and want to save their calories. This does make some sense, but if you want to be less hungry later on, eat more at breakfast!
Anyway, we'd love to know if you found these tips helpful! Let us know by emailing [email protected]