Are you in the mood for a delicious nutrient-rich, high-fiber snack?
When Autumn approaches, you might begin to think of falling leaves and comfort food. People may not always associate sweet potatoes with comfort food but here's why they should be a kitchen staple.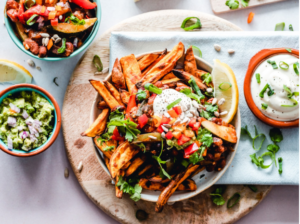 Benefits of Sweet Potatoes
There are a ton of benefits that come with consuming sweet potatoes. They are root vegetables that are packed with nutrients. These potatoes contain a high amount of fiber, vitamin B5, vitamin C, calcium, niacin, potassium, thiamin and beta-carotene. 
One sweet potato has about 108 calories, 18.7 grams of carbohydrates, and 3 grams of fat. Sweet potatoes can come in various colors like white, yellow, purple and even brown. 
A study showed that eating sweet potatoes may improve insulin sensitivity with those who have Type 2 Diabetes. Not only may they help increase insulin sensitivity, they may also aid in reducing constipation, reducing the risk of developing cancer, improving digestion, boosting immunity, reducing inflammation, protecting eye health, and many more. Now, knowing all these great benefits, here is a fun way to add them to your meal!
Healthy Recipe: Maple-Roasted Sweet Potatoes
Taken From: eatingwell.com 
Ingredients:
2 ½ lbs. sweet potatoes peeled and cut into 1 ½ inch pieces

⅓ cup pure maple syrup

2 tablespoons of butter, melted

1 tablespoon lemon juice

½ teaspoon of salt and ground pepper to taste
Directions:
Preheat the oven to 400 degrees F.

Arrange potatoes in an even layer in a 9-by-13 inch glass baking dish. Combine maple syrup,

butter, lemon juice, salt, and pepper in a small bowl. Pour the mixture over the potatoes; toss to coat.

Cover and bake the potatoes for 15 minutes. Uncover, stir and cook, stirring every 15 minutes, until tender and starting to brown, 45 to 50 minutes more.
Serving Size: About 1/2 Cup Per Serving: 92 calories; protein 1.2g; carbohydrates 18g; dietary fiber 1.9g; sugars 9.1g; fat 2g; saturated fat 1.3g; cholesterol 5.1mg; vitamin a iu 11108.3IU; vitamin c 11.8mg; folate 3.8mcg; calcium 31.7mg; iron 0.4mg; magnesium 17.6mg; potassium 294.1mg; sodium 118.9mg; thiamin 0.1mg; added sugar 5g. Exchanges: 
1 1/2 Starch, 1/2 Fat