May is National Strawberry Month – and there are many reasons to celebrate this delicious berry! 
The strawberry originated in Europe in the 18th century. Strawberries are rich in vitamins, antioxidants, fiber, and plant compounds which may benefit heart health and blood sugar control.1 
Strawberry Nutrition Details
Fresh strawberries are very high in water with a low amount of carbohydrates. Most of the carbohydrates come from simple sugars, and with a glycemic index (GI) of 40, strawberries should not cause a large spike in blood sugar levels.1 
26% of the carbohydrates in strawberries come from fiber, and dietary fiber feeds the good bacteria in your gut and promotes good digestive health. 
The most abundant vitamins and minerals in strawberries include:
Vitamin C

– a powerful antioxidant, which helps protect the body against cell damage. It is also critical for immune function and skin health. 

Folate (Vitamin B9)

– important for producing red blood cells and healthy cell growth and function. This vitamin is crucial during pregnancy in order to reduce the risk of birth defects affecting the brain and spine. 

Manganese

– helps with bone and connective tissue formation, thyroid and sex hormone function, and absorbing calcium. 

Potassium

– maintains blood pressure and acid/base balance in the body. 
Strawberries are full of antioxidants and plant compounds, with more than 25 anthocyanins (plant pigments) contributing to numerous health benefits. These plant pigments are called Flavonoids and serve as strong antioxidants in the body.2 They also fight inflammation and help the body function more efficiently. 
When compared to other fruit, strawberries consistently contain 2-11 times more phenolic antioxidants.3 Ellagitannins and ellagic acid make up a large part of the antioxidant content in strawberries, and these antioxidants have been linked to several health benefits – including fighting bacteria and reducing cancer risk.4 
Health Advantages of Strawberries
Research has shown that eating strawberries is associated with a reduced risk for several chronic diseases and that strawberries may provide various health advantages: 
– Boost Heart Health 
Research studies have discovered a correlation between strawberry consumption (specifically anthocyanins) and improved heart health in individuals.5 Strawberries can improve blood antioxidant status, reduce inflammation, decrease oxidative stress, improve vascular function and lipid levels, and reduce harmful oxidation of LDL cholesterol. 
Several studies have investigated the impact of freeze-dried strawberry supplements for those with type 2 diabetes or metabolic syndrome (mainly with overweight or obese individuals).6 After 4-12 weeks of supplementation, individuals showed a clinically significant decrease in several risk factors for heart disease – including LDL cholesterol, inflammatory markers, and oxidized LDL particles. 
– Improve Blood Sugar Control
Strawberry consumption appears to slow down glucose digestion and reduce both blood sugar and insulin spikes following a carbohydrate-rich meal when compared to a carbohydrate-rich meal without strawberries.7 This finding is promising since poor blood sugar control and high-sugar diets have been correlated with an increased risk for obesity, type 2 diabetes, and heart disease.8 
– Aid Cancer Prevention 
Cancer is often linked to oxidative stress and chronic inflammation in the body, and multiple research studies suggest that berries can help prevent several cancers through their ability to reduce oxidative stress and counteract inflammation.9 
Eating strawberries was shown to stop the formation of tumors in animals with mouth cancer along with liver cancer cells in humans.10 It is hypothesized that strawberries are able to aid cancer prevention due to their ellagic acid and ellagitannins content, which has been shown to end the growth of cancer cells. 
National Strawberry Month Recipes
Strawberries are usually eaten raw and fresh, however, they can be used to make a variety of jams, jellies, and desserts!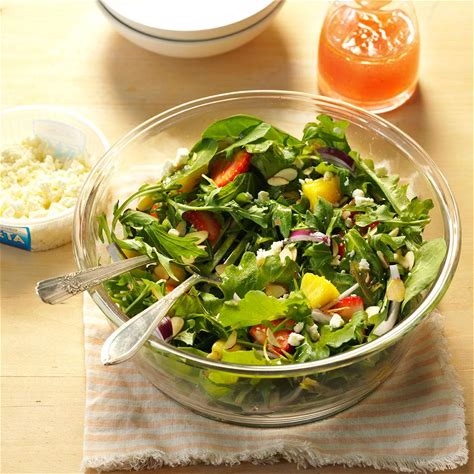 Strawberry Garden Salad. 11 
Ingredients (6 servings): 
– 8 cups spring mix salad greens 
– 2 cups fresh strawberries, halved 
– 1 cup fresh pineapple, cubed 
– ½ small red onion, thinly sliced 
– ⅓ cup raspberry vinaigrette 
– ½ cup crumbled feta cheese 
– ¼ cup sliced almonds, toasted 
Directions:
Place green, fruit, and onion in a large bowl. 2. Drizzle with vinaigrette and toss gently to combine. 3. Sprinkle with cheese and almonds – serve immediately. 
Serving size: 1-⅓ cups 
– 15g Carbohydrates 
– 4g Fiber 
– 4g Protein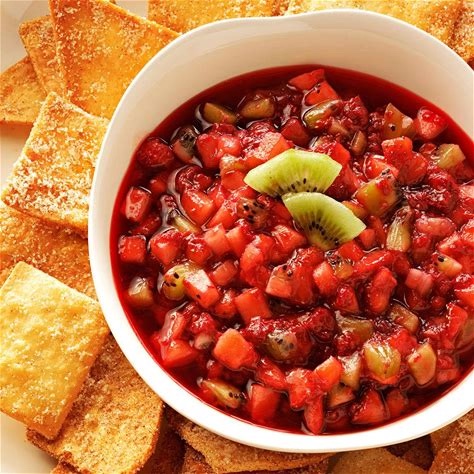 Fruit Salsa with Cinnamon Tortilla Chips. 11 
Ingredients (Salsa): 
– 1lb fresh strawberries, finely chopped 
– 2 medium apples, peeled and finely chopped 
– 12oz package of frozen strawberries 
– 2 medium kiwifruit, peeled and finely chopped 
– 3 Tbsp peach/apricot preserves 
– 2 Tbsp sugar 
– 1 Tbsp brown sugar 
Cinnamon Tortilla Chips: 
– Oil for frying 
– 10 – 10inch flour tortillas 
– ½ cup sugar 
– 2 tsp ground cinnamon 
Directions: 
In a large bowl, combine all of the salsa ingredients; cover and chill for 20 minutes or until serving. 

In an electric skillet (or deep-fat fryer), heat oil to 375F. Cut each tortilla in half, then cut each half into 10 strips. 

Fry strips, a few at a time, until light golden brown on both sides. Drain on paper towels. 

Combine sugar and cinnamon and sprinkle evenly over strips. Serve with salsa. Ingredients list makes 6 cups of salsa and ~16 dozen tortilla chips. Serving size: ¼ cup of salsa with 8 chips. 
– 28g Carbohydrates 
– 4g Fiber 
– 3g Protein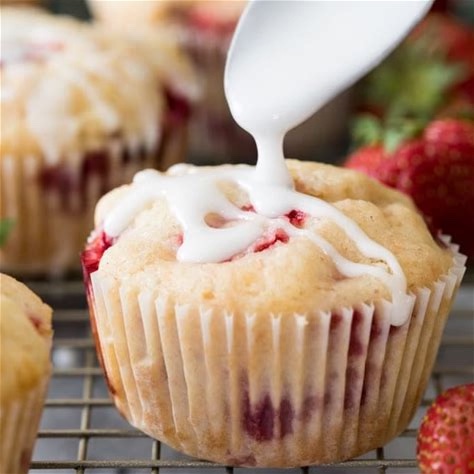 Strawberry Muffins. 12 
Ingredients (11 muffins): 
– 4 Tbsp unsalted butter, melted and cooled 
– 1 ½ cup chopped strawberries 
– ¼ cup vegetable oil 
– 1 cup granulated sugar 
– 1 large egg + 1 egg white 
– 1 ½ tsp vanilla extract 
– ½ cup buttermilk 
– 1 ¾ cup all-purpose flour 
– 2 tsp baking powder 
– 2 tsp cornstarch 
– ½ tsp salt 
Glaze: 
– ¾ cup powdered sugar 
– 3-4 tsp milk 
Directions: 
Combine melted butter and vegetable oil in a large bowl and stir well; add in sugar and stir again. 

Add egg, egg white, and vanilla extract. Stir well until all ingredients are thoroughly combined, then add buttermilk and stir again. 

In a separate bowl, whisk together flour, baking powder, cornstarch, and salt. 4. Fold the dry ingredients into the wet ingredients gently, making sure to not over mix the batter. Once about half of the dry ingredients have been combined, add in the chopped strawberries and continue to gently stir. Cover bowl and allow the batter to sit for 15 minutes. 

Preheat the oven to 425F and line a 12-count muffin tin with paper liners. Once the oven is preheated, portion the batter into the tin, filling each liner to the top with batter. 

Bake at 425F for 8 minutes and then reduce the oven temperature to 350F. Bake for another 12 minutes or until the tops are beginning to turn golden brown (do not open the oven door or remove the muffins when adjusting the temperature).

Allow muffins to cool and top with glaze if desired. For glaze, combine powdered sugar and milk in a small bowl and whisk until smooth. If the batter is too stiff to drizzle, add one teaspoon of milk at a time until desired consistency is achieved. If the glaze becomes too thin, add in more sugar. 
Serving size: 1 muffin 
– 47g Carbohydrates 
– 2g Fiber 
– 7g Protein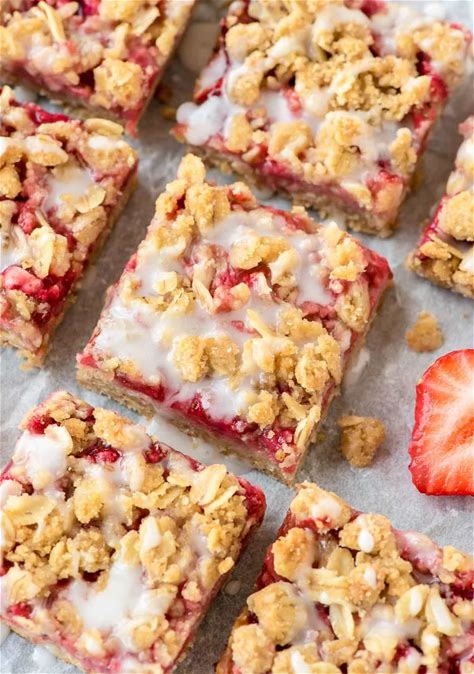 Strawberry Oatmeal Bars. 13 
Ingredients (16 bars): 
– 1 cup old-fashioned rolled oats 
– ¾ white whole wheat flour 
– ⅓ cup light brown sugar 
– 2 cups diced strawberries 
– 6 Tbsp unsalted butter 
– 1 tsp cornstarch 
– 1 Tbsp lemon juice 
– 1 Tbsp granulated sugar 
– ¼ tsp ground ginger 
– ¼ tsp kosher salt 
Vanilla Glaze: 
– ½ cup powdered sugar 
– ½ tsp vanilla extract 
– 1 Tbsp milk of choice 
Directions: 
Preheat the oven to 375F and line an 8x8inch baking pan with parchment paper. 2. In a medium bowl, combine oats, flour, brown sugar, ginger, and salt. Pour in the melted butter and stir until it forms clumps and the dry ingredients are evenly mixed in. Set aside ½ cup of the crumble mixture, then press the rest into an even layer in the bottom of the baking pan. 

Scatter half of the strawberries over the crust. Sprinkle the cornstarch evenly over the top, then sprinkle on the lemon juice and ½ tablespoon of the granulated sugar. Scatter on the remaining berries, then the remaining ½ tablespoon of sugar. 

Sprinkle the crumble mixture that was set aside evenly over the top – you will have some fruit showing through. Bake the bars for 35-40 minutes until the fruit appears bubbly and the crumb topping looks golden and toasted. 

Remove the bars from the oven and allow it to cool. While the bars cool, prepare the glaze by whisking the powdered sugar, vanilla, and milk until smooth in a medium bowl. Once the bars have cooled, drizzle with glaze and enjoy! 
Serving size: 1 bar without glaze
– 14g Carbohydrates 
– 1g Fiber 
– 2g Protein 
Eat More Strawberries During National Strawberry Month
No matter how you incorporate strawberries into your diet, they are going to provide your body with several nutrients that will benefit your overall health. Choose more strawberries this month for a refreshing treat that is not only helping your body but tastes delicious!
Sources:
Bjarnadottir, A. (2019, March 27).

Strawberries 101: Nutrition Facts and Health Benefits

. Healthline.

https://www.healthline.com/nutrition/foods/strawberries#plant-compounds
Everything You Need to Know About Flavonoids

. (2019, October 23). Healthline. https://www.healthline.com/health/what-are-flavonoids-everything-you-need-to-kn ow#function 

Scalzo, J., Politi, A., Pellegrini, N., Mezzetti, B., & Battino, M. (2005). Plant genotype affects total antioxidant capacity and phenolic contents in fruit.

Nutrition (Burbank, Los Angeles County, Calif.)

,

21

(2), 207–213.

https://doi.org/10.1016/j.nut.2004.03.025
Sharma, M., Li, L., Celver, J., Killian, C., Kovoor, A., & Seeram, N. P. (2010). Effects of fruit ellagitannin extracts, ellagic acid, and their colonic metabolite, urolithin A, on Wnt signaling.

Journal of agricultural and food chemistry

,

58

(7), 3965–3969. https://doi.org/10.1021/jf902857v 

Basu, A., Rhone, M., & Lyons, T. J. (2010). Berries: emerging impact on

cardiovascular health.

Nutrition reviews

,

68

(3), 168–177.

https://doi.org/10.1111/j.1753-4887.2010.00273.x
Basu, A., Fu, D. X., Wilkinson, M., Simmons, B., Wu, M., Betts, N. M., Du, M., & Lyons, T. J. (2010). Strawberries decrease atherosclerotic markers in subjects with metabolic syndrome.

Nutrition research (New York, N.Y.)

,

30

(7), 462–469. https://doi.org/10.1016/j.nutres.2010.06.016 

Törrönen, R., Sarkkinen, E., Tapola, N., Hautaniemi, E., Kilpi, K., & Niskanen, L. (2010). Berries modify the postprandial plasma glucose response to sucrose in healthy subjects.

The British journal of nutrition

,

103

(8), 1094–1097. https://doi.org/10.1017/S0007114509992868 

Rizkalla S. W. (2014). Glycemic index: is it a predictor of metabolic and vascular disorders?.

Current opinion in clinical nutrition and metabolic care

,

17

(4), 373–378. https://doi.org/10.1097/MCO.0000000000000070 

Seeram N. P. (2008). Berry fruits for cancer prevention: current status and future prospects.

Journal of agricultural and food chemistry

,

56

(3), 630–635. https://doi.org/10.1021/jf072504n

10.Casto, B. C., Knobloch, T. J., Galioto, R. L., Yu, Z., Accurso, B. T., & Warner, B. M. (2013). Chemoprevention of oral cancer by lyophilized strawberries. Anticancer research, 33(11), 4757–4766.
Julie M., & 2023. (n.d.).

55 Recipes to Make with Fresh Strawberries

. Taste of Home.

https://www.tasteofhome.com/collection/recipes-to-make-with-fresh-strawberries/
12.Sam. (2018, June 20). Strawberry Muffins (with Video!). Sugar Spun Run. https://sugarspunrun.com/strawberry-muffins/
13.Clarke, E. (2018, March 30). Strawberry Oatmeal Bars. Well Plated by Erin. https://www.wellplated.com/strawberry-oatmeal-bars/