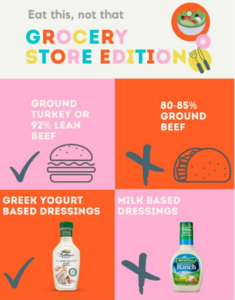 Going to the grocery store can be overwhelming, here are some tips to help navigate through the aisles:
Look for leaner cuts of meat. You can never go wrong with ground turkey and chicken, but if you are
wanting a leaner red
meat, look for the 92% beef or a top sirloin
Milk based creamy dressings are usually higher in fat, look for greek yogurt based dressings for a lighter version that doesn't sacrifice taste
All chips are not created equally. Long gone are the days 
where the only option is a fried high fat chip. Now you can find air fried and baked chips to satisfy that salty crunch your body is craving- just remember to follow portion sizing even with these lighter options.
Healthy eating is all about making the most out of your options. Choosing whole grain over white bread can provide higher fiber and make you feel fuller for longer. Experiment with different brands until you find your favorite.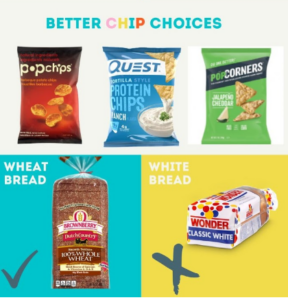 Grocery shopping doesn't have to be stressful, make a plan and a list. Many offer curbside pick-up so you can avoid temptation and save time. Save money by buying seasonal items and meal planning ahead for a busy week.