The weather is cooling down here in Arizona, which means no more excuses to not exercise! Today, we'll touch on some benefits of exercise and discuss 5 tips on how to fit more exercise into our schedules.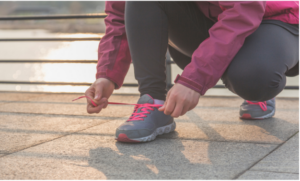 Exercise Benefits Physical & Mental Health
Exercise isn't just important for our physical health. According to a recent study on changes in physical activity during the COVID-19 outbreak, exercise has massive benefits for our mental health, too. The study found that when previously active individuals reduced their activity by 32.5%, their mental health plummeted. It also found that people who exercised regularly early on during the pandemic were less likely to be depressed. They also had greater resilience than those that didn't exercise. The study recommended reducing screen time and increasing exercise to prevent long-term mental health consequences.
5 Exercise Tips to Get Fit this Winter
#1: Prioritize!
If you don't make exercise a priority, it simply won't happen. Find the best time that works for you, and schedule it on your calendar. I have found that if I procrastinate my exercise until the end of the day, I just don't want to do it. Making time in the morning works best for me, but I recommend finding what works for you. For example, some of my clients find that going for a walk during their lunch break is the best time to fit movement into their day.
#2: Use a fitness app.
Going to the gym can take extra time and can often be intimidating. If you enjoy going to the gym, keep at it! If you don't, then you may find one of these apps/resources to be helpful:
-YouTube Channels  like Popsugar Fitness (Free) & Yoga with Kassandra
-Peloton (If you're willing to spend some money, this will have you sweating in your own living room! And you don't need to buy the bike to use the app.)
-Street Parking is great for at-home CrossFit-style exercise
-Nike Training Club – has been free during the pandemic. It's great because you can filter the workouts according to what equipment you have at home.
-Onnit Training Academy is similar to Nike Training Club
-Down Dog App is great for Yoga and HIIT workouts
-Glo.com – This offers online yoga, meditation, Pilates & fitness classes for a monthly price
#3: Exercise outside!
Spending time outdoors helps to increase vitamin D levels, reduce stress, and improve your sleep by setting your body's circadian rhythm. Extra tip: Spending time in the early morning sunlight is best at helping people sleep better at night. ⁠We live in Arizona, where the weather in the morning and the evening is amazing right now! Go take advantage of this by exploring hikes, playing pickleball or tennis, biking, or swimming outside.
 #4: Make exercise fun!
Find an activity that you love to do and invite others to join. For example, you could go toss a frisbee with a friend, play pickleball with family, or go rock climbing with buddies. Playing outdoor games feels like a game, but gives you all the benefits of regular exercise. Take time to schedule a fun activity each week!
#5: Get some strength training equipment for home.
It is recommended to do strength training 2 times per week to build strong bones and muscles. Gyms can be overpacked and take extra time to get to, so having some equipment on hand can be really useful. Even some resistance bands and a few dumbbells are a great place to start.
And, that concludes our list of 5 exercise tips to get fit this winter (regardless of a pandemic). We hope some of these ideas were helpful and that you will enjoy getting outside more this winter! Please let us know if there is any information you are interested in hearing more about. Our Registered Dietitian Nutritionists are happy to help in any way we can.